● China First Original Manufacturer
● 11 lines HIFU Patent No. ZL2015 2 0088495.8
● Menobeauty has offered a lot Customized OEM since 2014,HIFU cartridges total lines can be 10000 shots,20000 shots,25000 shots,26000 shots depends on your market.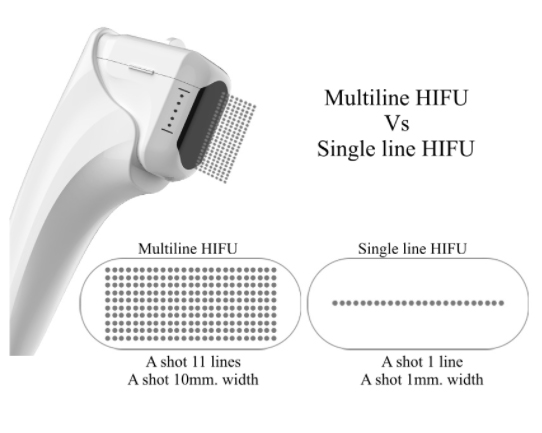 3D HIFU use HIFU's ultrasonic high-intensity focusing principle to focus the sound waves on a fixed focal point and generate high-temperature heat at the focal point. During care, the instrument accurately controls the energy to focus on the 3mm collagen layer and 4.5mm fascia layer of the subcutaneous tissue. When the temperature rises to 65-75°C, the SMAS at the focus will produce a protein coagulation reaction, thus focusing on coagulation. It generates tension to the surroundings and stimulates the reorganization and replenishment of collagen. The newly generated collagen can gradually tighten and lift the skin from the inside and restore elasticity.
Non-Surgical skin lifting has become one of the most sought after treatments and HIFU is the latest non-surgical technology to excel in this area in just one single session! It targets individually Brow lifting, Jowl line lifting, Nasolabial fold reduction,Periorbital wrinkle reduction and overall Skin tightening, rejuvenation and whole body slimming.
Meno HIFU uses High Intensity Focused Ultrasound technology, so that the skin tissue creates the thermal, and make high-speed friction cells to stimulate collagen such heat effect will not hurt the epidermis, because the treatment fast and direct access to the treatment site within 0-0.5 seconds, without touching the surrounding tissue and can be passed direclty to the superficial tendon membrane system(SMAS).
The HIFU machine can be done firm skin while pulling the muscle layer, thin face up to the progressive effect. What is SMAS? Lift operation at present by plastic surgeons do operation layer, the SMAS layer, which is (superficial musculoaponeurotic system, referred  to as the fascia layer on the skin depth is about 4.5mm, subcutaneous fat and muscle.